Enclosures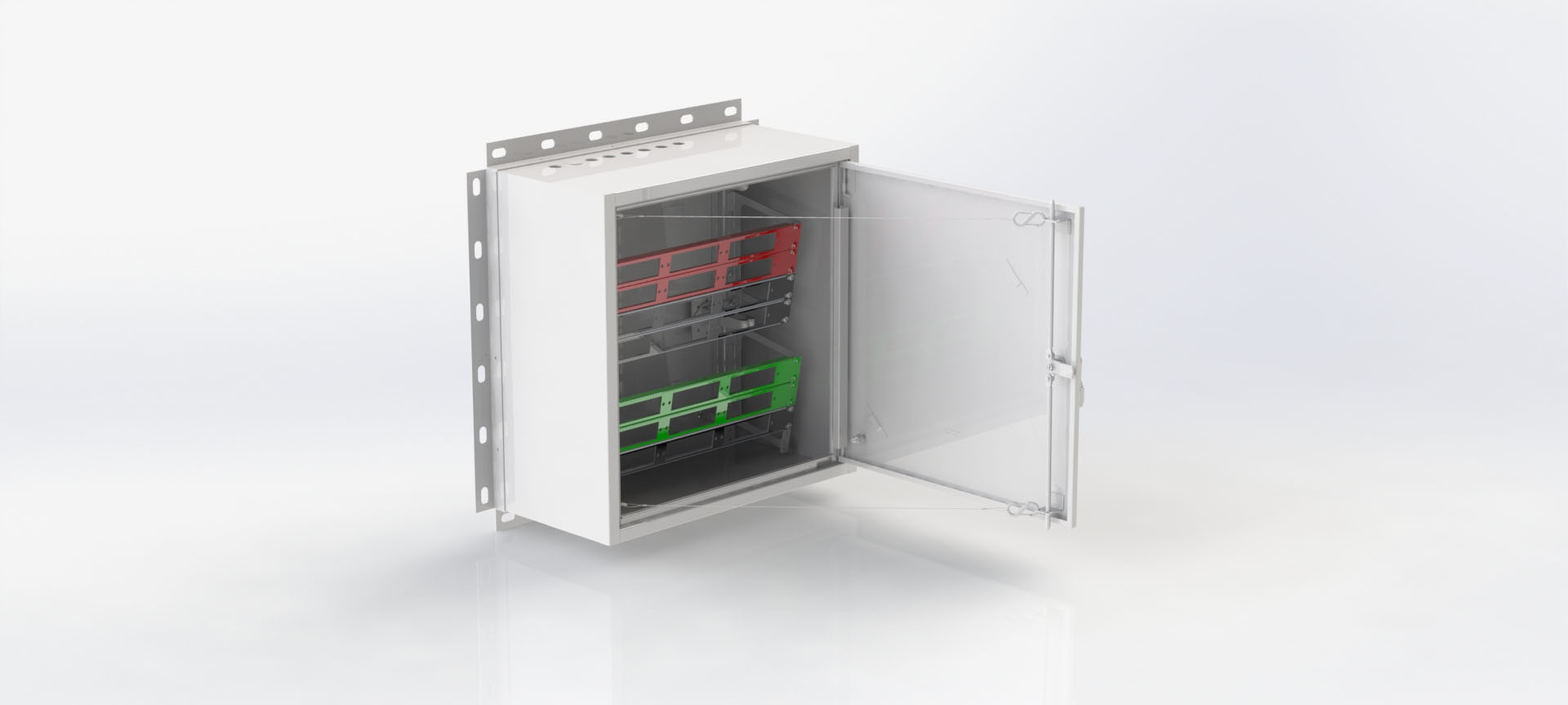 Holocom's proprietary high-security enclosures provide physical security to networks, and limit unauthorized entry and access. Innovative features, such as our their patented door back flange and clean aesthetics, make them us a leader in the market.
Holocom patented the secure enclosure for access to cabled systems in 2002, and continues to improve upon this concept. From the wall-mounted "04U" enclosure to the User Drop Box, Holocom provides an end-to-end variety of all the high-security enclosures required for either a raceway or industrial pipe PDS solution.
Do you have an application that requires something beyond our standard offerings? We will work with you to design a custom solution that meets your special requirements.
Benefits
Improved performance
Flexibility
Aesthetics
Proven record in the market
User Drop Boxes
Holocom User Drop Boxes (UDB) provide physical security for single or multiple networks connections. Depending on the requirements and installer preference, customers may select from multiple User Drop Box options.
The UDB mounts securely on or off walls, and restricts access to the cable termination point. The door locks securely using a Sargent & Greenleaf® padlock, and includes the Holocom patented back flange that restricts access through the locked door and provides superior security. The UDB is installation-efficient with its patented and included back plate. The back plate holds a commercial single gang faceplate. The UDB has manufactured mounting points, and depending on the model chosen, may have a 1-inch or 2-inch Holocom Interface Sleeve ready top opening cutout or no cutout at all for installer field modification.
Telecommunications Enclosures
The lockable "04U" enclosure mounts on the wall and has the ability to serve as a restricted access equipment housing for a classified network. This low profile, 4U depth high-security enclosure offers an efficient use of equipment or telecommunications room space for beginning a PDS network out of a secure space.
Pull Boxes
Available in 12-gauge and 16-gauge galvanized steel and a range of sizes, Holocom offers more than a dozen Pull Box options. All are powder coated with clean lines, and provide a tamper-resistant design for maximum security protection.
All High Security Pull Boxes mount securely to walls or stand-offs, and are designed to protect unencrypted classified cabling within a Raceway or industrial pipe system. Tamper resistant design includes welded internal hinges. The enclosure door securely locks using Holocom's patented locking system and the Sargent and Greenleaf® padlock.
Special Application Enclosures
Holocom produces Special Application Enclosures in response to customer specific requirements. As a small business with in-house product design and 3D printing capability for scaled prototypes, Holocom is able to respond quickly to new design requests or modifications. Email or call for inquiry.