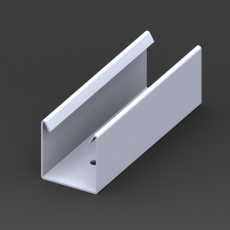 HIGH SECURITY RACEWAY ONLY - 100 ft.
SDS-WM-RCW-100-ST
| | |
| --- | --- |
| Category: | Raceway Systems, SDS – 2" Square, Raceway, |
| Weight: | 127 lbs |
| Dimensions: | High Security Raceway: Length 117" x Width 1.9" x Height 1.8" |
| International harmonized code: | 730661 |
The Secure Raceway product traditionally comprises two pieces: the Raceway and TopCap, which securely lock together with the addition of other components. In large installations, Raceway can be consumed at a faster rate than TopCap. In order to promote maximum material efficiency, the Raceway component is now available separately so that the excess TopCap can be used with new Raceway in the future.
HIGH SECURITY RACEWAY: Kit is comprised of ten 117" sections of 16-gauge electro-galvanized steel raceway. Each section comes with two (2) manufactured mounting points, located along the raceway center line and 1.5" from each end. A third mounting point in the center of each section must be field-punched by the installer.