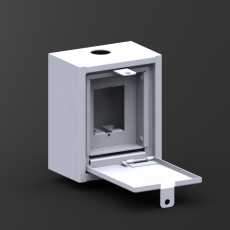 HIGH SECURITY ENCLOSURE USER DROP BOX - 1" HOLE
SEC-WM-UDB3-H1
| | |
| --- | --- |
| Category: | User Drop Boxes, 16 Gauge, |
| Weight: | 4.0 lbs |
| Dimensions: | Height 7.5" x Width 6" x Depth 4" |
| International harmonized code: | 8536908030 |
The User Drop Box 3 (UDB3) provides physical security for single or multiple network connections and was designed specifically for use with Holocom Secure Mini Dukt™. The UDB3 mounts securely on walls and restricts access to the cable termination point. The top opening perfectly positions Secure Mini Dukt™ for a one-inch standoff using Secure Raceway Spacers (SDS-RW-SPR-WT and in the SDS-RW-AKT-03 attachment kit). Built-in back plate, cable manager, and manufactured mounting points provide installation efficiency. The door locks securely using Holocom's patented door back flange feature and Sargent & Greenleaf ® 8077AD padlock.
ENCLOSURE:
16-gauge electro-galvanized steel with 1" NPT opening for Secure Mini Dukt™ installation. There are two labor-saving, manufactured mounting points, and the powder coat finish is White Textured.
DOOR ASSEMBLY:
Single drop-down door with security padlock hasp and tamper resistant design with welded internal spring hinge.
BACK PLATE:
Single gang commercial cut out with screw attachment, integrated tension relief cable management wrap, and fully removable from the enclosure.
OPTIONAL ACCESSORIES:
Sargent & Greenleaf ® 8077AD padlock (SDS-LK-SGL).
Related Products